Have you been tasked with bringing a dish to the Super Bowl Party? Need something that doesn't require too much fuss but you want it to taste great? Well these aren't you ordinary nachos my friend. Tortilla chips, steak fries, cheese, guacamole and tender, juicy flavorful carne asada …. "over the top" doesn't begin to describe the amazingness of this crowd pleaser.
Yes  it's over the top but everything about the Super Bowl is over the top. This is the time that you bring out the big guns. This, let me remind you, is the showcase show down of showcase show downs. And the star is the meat.
This marinade is mainly comprised of soy sauce and orange juice and dang near punches you in the face with flavor. I recommend marinating it at least three hours but no longer than twelve hours.  This carne asada almost didn't make it this this blog. I couldn't stop eating and neither will you.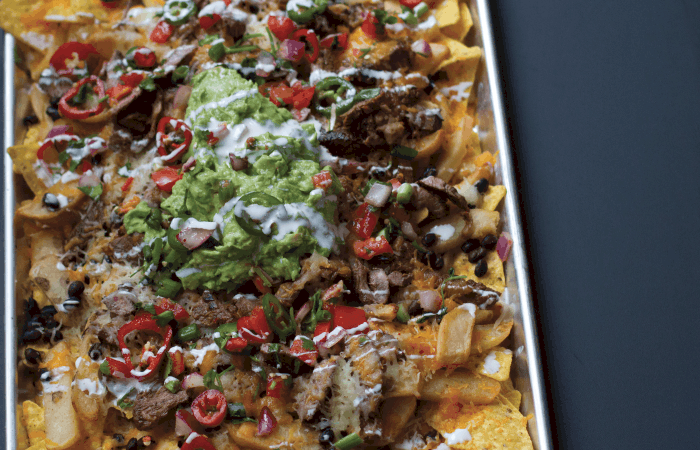 The game changer here is the addition of steak fries, YYYAAAASSSS honey. These nachos are what dreams are made of which is why they have earned the name "MONSTER".
Layer on the chips, the fries, the beans, the cheese, the meat and bake. Then add "le flair",  the guac, the crema and my rustic pico de gallo. Be careful here because all pico de gallo's aren't created equally, this guy is spicy, I mean really spicy. If you can't handle the heat, make sure to remove the jalepeno seeds or use a store bought mild pico de gallo or salsa.
Once you set these out they won't be around for long. So make sure you make yourself a plate first. Enjoy and subscribe to my mailing list for more delectable recipes.