RECIPE: Spicy Mango Chicken Sausage Tacos with Blackberry and Cucumber Salsa
This week I am making all blackberry recipes to pay homage to Kendrick Lamar's song, "The Blacker the Berry".  You probably know why. Kendrick. Grammys. Off-The-Chain. If you missed his Grammy performance last night you are failing, plain and simple. He literally lit up the stage with a jaw dropping performance. He may have scared a few people too, nevertheless, he delivered a powerful message with a performance that unapologetically shined light on the historic and existing African American struggle. Because I care, I won't let you fail, so here is a replay of one of the best performances the Grammys probably has ever seen.
Overall the Grammy Awards was pretty much a snooze fest. It was not until the pounding sound of the drums signaling the start of the Kendrick Lamar performance that I was truly drawn in. Every element of his show was compelling; the shackles, the African dancers, the flames; all of it. You could feel the aggression in his music through the television screen, which I'm sure, was intended. All of the theatrics were amazing (kudos to the production team) but what was even more impressive was the truth telling. So honest that as the camera scanned the audience you could tell some people were visibly uncomfortable.  The performance was somehow ugly and beautiful all at the same. I got chills.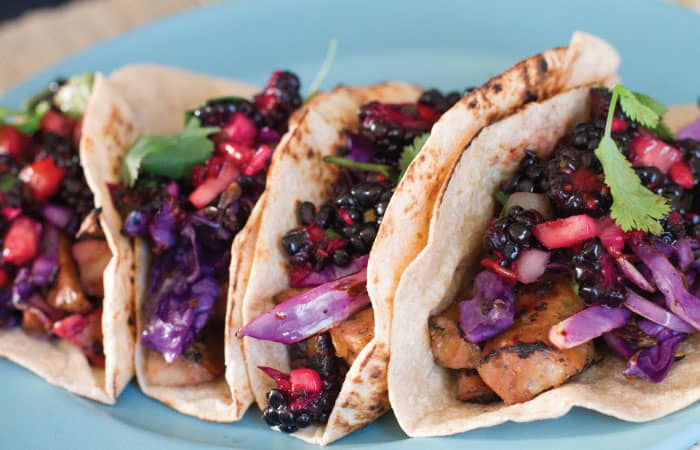 That being said, I woke with the performance still on my mind so I decided to switch my recipe plans up this week. As my own boss I can do that you know. And since today is #TACOTUESDAY it only made sense to make my Spicy Mango Chicken Sausage Tacos with Blackberry Salsa.
I am pretty loyal to the brands that I know work, so I am going to plug my favorite chicken sausage brand, "Aidells".  For this recipe I used their Spicy Mango with Jalapeno Smoked Chicken Sausage.  It's so good.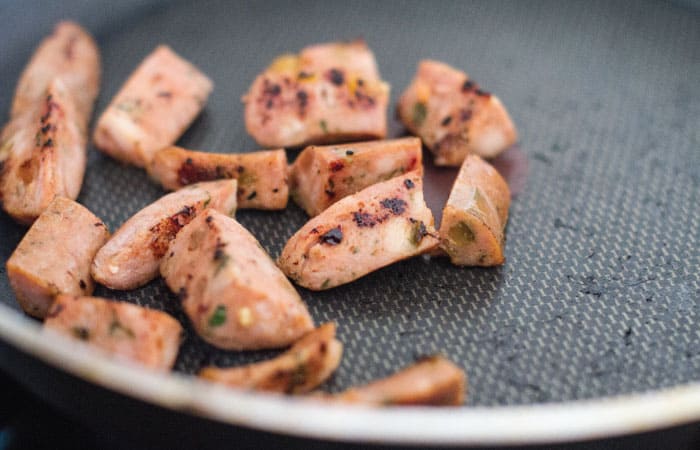 For the taco I made some crispy red cabbage to put atop the sausage, followed by a blackberry and cucumber salsa that is tart and sweet with a nice kick of spice, queue the habanero. Finally I top it with a little crema and we are in the game. This is and simple and easy recipe that you will love. Enjoy!
Make sure you subscribe to my weekly newsletter if you haven't already.