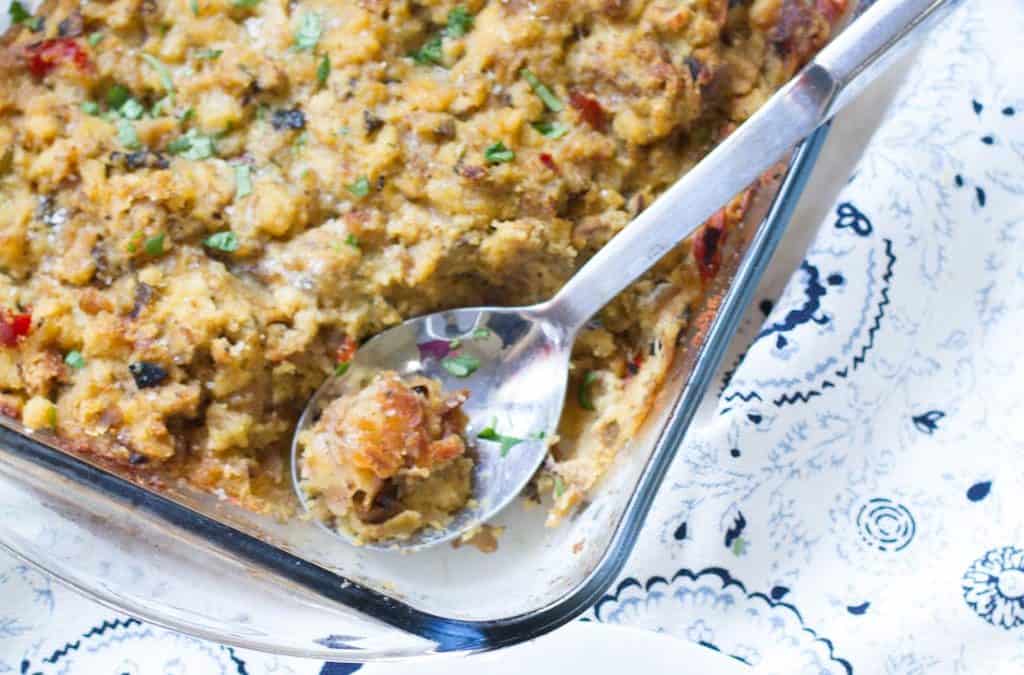 Home-Style Turkey Dressing – Moist turkey dressing matched with the perfect blend of cornbread, bread crumbs and savory veggies makes this the perfect Thanksgiving side dish.
Stuffing is probably one of my top 3 favorite Thanksgiving sides. I normally leave the stuffing making up to my sister Marsaidees. Unfortunately I won't be spending the holidays with my family this year so I'm on my own. I decided to do my own spin on her traditional cornbread dressing recipe by adding bread crumbs and red bell pepper for additional texture and flavor. The inside of the dressing is exceptionally moist by using the homemade stock and then it is topped with butter to achieve a nice crispy top while baking. This recipe will definitely send the family running back for seconds.
Home-Style Turkey Dressing
Ingredients
1 (8x8 baking pan) crumbled day old cornbread (16 oz)
2 tablespoons olive oil
2 cups dried seasoned stuffing
2 turkey necks (or the turkey Innards)
1 red bell pepper, chopped
1 large onion, chopped
2 celery stalks chopped
8 oz white mushrooms, chopped
2 teaspoons ground sage
2 teaspoons black pepper
2 teaspoons kosher salt
2 teaspoons onion powder
2 teaspoon granulated garlic
1 teaspoon oregano
1 teaspoon thyme
2 eggs
3 cups poultry broth
1/4 cup butter, melted
Instructions
Neckbones or Innards
Place neck bones (or innards) in a covered medium size boiling pot of water. Occasionally check them and add more water as needed. Neckbones should always be submerged in water. Let them boil for 45-60 minutes or until meat is tender and falling off the bones. Remove them from the pot and let cool. Reserve stock.
Use fork and/or hands to remove shredded meat from bone (and or chop) and set aside.
Dressing:
Preheat oven 350 F
Add oil to medium sized pan on medium heat. Once hot add onions, celery and bell peppers and cook for 5 minutes. Add mushrooms and cook until all vegetables are softened. Add in all seasonings: sage, oregano, thyme, granulated garlic, onion powder, salt and pepper as well as the shredded meat and mix together. Then remove from heat.
https://www.meikoandthedish.com/homestyle-turkey-dressing/